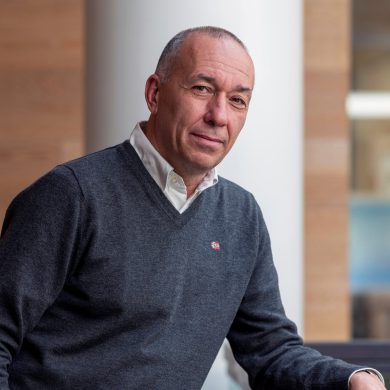 Martino Scabbia Guerrini
VF Corporation Executive Vice President, and President EMEA (Europe, Middle East, Africa), APAC (Asia Pacific) and Emerging Brands
Manager di grande esperienza, forte di una carriera internazionale trentennale nei settori moda e lifestyle, e appassionato mentore di giovani talenti, Martino Scabbia Guerrini è responsabile delle operazioni commerciali di VF nelle regioni EMEA e APAC, nonché della strategia a livello globale dei Brand Emergenti: Altra®, Eastpak®, icebreaker®, JanSport®, Kipling®, Napapijri® e Smartwool®.
Dal 2018 è inoltre membro del Global Executive Leadership Team di VF Corporation.
La chiarezza della sua visione in tema di design, sostenibilità, narrativa dei brand, trasformazione e integrazione del mercato, così come di progettazione organizzativa e valorizzazione del talento, tutta centrata attorno alle priorità di consumatori e clienti, gli ha permesso di guidare con successo, per molti anni e attraverso fasi complesse, la crescita dei marchi di VF e del modello di business a livello regionale e globale.
Martino Scabbia Guerrini ha iniziato la sua carriera in VF nel 2006, nel ruolo di President of the Sportswear coalition in EMEA, con la responsabilità dei marchi Napapijri®, Kipling® e Nautica®. Negli anni successivi ha ampliato le sue responsabilità, aggiungendo nel 2008 la supervisione del marchio Eastpak®, 7 for All Mankind® nel 2009 e dei marchi Lee® e Wrangler® nel 2013. È stato inoltre responsabile dei brand Sportswear, Jeanswear e Contemporary di VF nella regione EMEA fino ad aprile 2017, quando è stato nominato President, VF Corporation, EMEA.
Nel 2022 ha assunto la supervisione a livello globale dei brand emergenti, che includono Napapijri®, Kipling®, Eastpak®, JanSport® e icebreaker®. Inoltre, nel dicembre 2022, gli è stata conferita la responsabilità della regione APAC, al fine di sviluppare ulteriori nuove opportunità per le attività di VF International sia in EMEA che in APAC.
Prima di entrare a far parte di VF, Martino Scabbia Guerrini è stato Consigliere di Amministrazione presso Opera SA Equity Fund e per molti anni ha ricoperto diverse posizioni di livello dirigenziale presso Tod's Group e Stone Island. Ha iniziato la sua carriera presso il Virgin Group.
Impegnato nell'orientamento e nel mentoring delle giovani generazioni, da oltre dieci anni tiene conferenze per i percorsi post-laurea della Domus Academy di Milano (Moda), del Politecnico di Milano (Design Industriale) e della Luiss di Roma (Economia). Martino Scabbia Guerrini ha conseguito una laurea magistrale in Economia e Scienze Politiche presso l'Università Cattolica del Sacro Cuore di Milano, e una laurea triennale in Marketing.